Okay, I just posted not too long ago and I am supposed to be productive today! Ha! So what to do....link up with Farley from
Oh'Boy Fourth Grade
for Currently!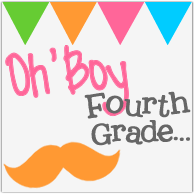 Listening: I am watching reruns for Say Yes to the Dress as I am being "productive"! However, I am about to change it to watch Miss Congeniality (I just love this movie!)
Loving: I am loving that it is Saturday! It has been a blur of a week and I am glad that I am relaxing in my pj's as I am writing. I just love the weekends!
Thinking: I am thinking that I need to go buy Breaking Dawn Part 2! Some of you might be cringing but I love Twilight! I just can't wait to go buy it! Needless to say, I have all the movies!
Wanting: I don't know how many of you are ready but I am so ready for Spring Break! I'm not going anywhere but I am still excited about it! I am just ready for a break so I can start my Spring Cleaning and other little projects I have in mind!

Needing: I need to stop thinking about work! I am constantly thinking about what it is I need to be doing and I need to get done! Ultimately, I love what I do but there are times that I need to pause and enjoy everything else around me!

Like, Love, Hate: I like artichoke dip. It is so yummy! However, I love avocados but I hate guacamole dip! LOL! Does that make any sense???? I just don't like the texture of guacamole dip! Yesterday, we went to Red Robin's in Alabama and I got a BLTA and it was yummy!
Now, I know this is where many people will think I am crazy but I hate alcohol. I just hate the taste. So what do I drink to make my day better????? COCA COLA! That is my true addiction! Yum!

Once again, have a great weekend!